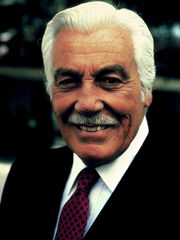 Peter Stavros

Series

Falcon Crest

First appearance

"Blood Brothers"
October 18, 1985

Last appearance

"Farewell My Lovelies"
November 4, 1988

Married to

Occupation

Owner and CEO of Stavros Industries
Former Co-Owner of Falcon Crest
Owner of Channing, Incorporated

Parents

Siblings

Children

Eric Stavros
Sophia Stavros

Grandchildren

Relatives

Skylar Kimball (step-daughter)
Peter Stavros is a billionaire Greek industrialist and an old flame of Angela Channing.
When Angela Channing needed help in getting Falcon Crest back from Cassandra and Anna, she called on the expertise, wealth and influence of Stavros. When Stavros arrived in Tuscany Valley, he offers to buy the Rossini's half of Falcon Crest.
He asks Angela to marry him, but she could only think about saving Falcon Crest.
Unbeknownst to Cassandra about Angela and Peter's involvement, she sells her half of Falcon Crest to Peter.
Finally accepting Stavros's proposal, Angela puts their wedding date off but Peter constantly pushes her to set a date.
Ad blocker interference detected!
Wikia is a free-to-use site that makes money from advertising. We have a modified experience for viewers using ad blockers

Wikia is not accessible if you've made further modifications. Remove the custom ad blocker rule(s) and the page will load as expected.